The reliable thermal insulation design
In­su­la­tion helps save en­ergy, avoid dam­age to build­ings and de­liv­ers a healthy in­door liv­ing en­vir­on­ment. To en­sure this works re­li­ably and ef­fi­ciently over the long run, one design as­pect is es­pe­cially crit­ic­al in terms of build­ing phys­ics: The thermal in­su­la­tion must be pro­tec­ted on both sides.
The ideal structure is 3-ply
An air­proof­ing lay­er such as a va­pour re­tarder is loc­ated on the side of the in­su­la­tion fa­cing the room
The thermal in­su­la­tion ma­ter­i­al is in the middle.
On the ex­ter­i­or side, a wind bar­ri­er such as an un­der­lay or wall lin­ing mem­brane cov­ers the in­su­la­tion
This design en­sures that weath­er, con­dens­a­tion, mould and air flow do not neg­at­ively af­fect the per­form­ance of the build­ing com­pon­ent or even cause struc­tur­al dam­age.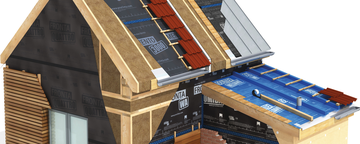 Windproofing systems
System solutions that actively manage moisture for external windproofing for
- pitched roofs
- walls